The information and images on this page were supplied by Alan Taylor Whose late Uncle was a 576 Sqn Pilot who flew from Fiskerton.
He was F/L Herbert Fredrick Benson D.F.C. Born December 13th 1909 in Plumstead, S.London. He joined the Army in 1935 and transferred to the R.A.F on June 30th 1941, service number 159879.Following his training in Florida, he joined 576 Sqn. on 31st October 1944 until 9th January 1945. (Number of missions and targets to follow.) F/L Benson was awarded his D.F.C on 16th March 1945 when the Lancaster he was flying was severly damaged over Nurnberg when he and four members of his crew were injured. They were creditted with shooting-down a German ME 410 night-fighter. Following his service at Fiskerton, he transferred to 156 Sqn.
F/L Benson D.F.C was sadly lost with only a month of operational flying left in the war, over Hamburg on 31st March 1945.He is buried with his crew at Ohlsdorf cemetary.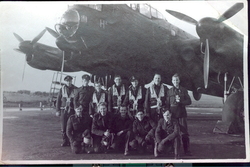 Image of Lancaster H squared taken at Fiskerton Dec. 1944. Crew L to R: P/O H.Woolstenhulme,(Flight Engineer), F/L H. benson, (Pilot.) Sgt. R.Goldsbury,(Rear gunner.) Sgt. R.C.Griffiths,(Mid-Upper gunner.) F/O H.G. Mather (Nav) F/O Wilson (WOP), F/O P.C.Milner, ( Bomb Aimer). Sgt Griffiths, F/O Milner &F/O Wilson were injured on a raid to Nurnberg for which F/O Benson was awarded an immediate D.F.C.